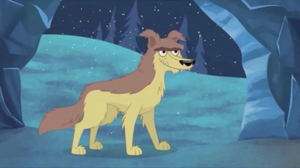 Woof-Bark-Tooth was a primitive canine who was the first of his kind to bond with humans. He appeared as part of a flashback in "Lucky Gets Adopted."
One snowy night, he came to the defense of a family of cave people who were being menaced by a sabre-toothed tiger. After he saved them, the family offered Woof-Bark-Tooth warmth, companionship, a name, and a home, which he gladly accepted.
Modern dogs celebrate "Woof-Bark-Tooth Day" as a way of remembering the importance of the bond between dogs and humans.
He resembles
Lucky
 and could very well be an ancestor.
Ad blocker interference detected!
Wikia is a free-to-use site that makes money from advertising. We have a modified experience for viewers using ad blockers

Wikia is not accessible if you've made further modifications. Remove the custom ad blocker rule(s) and the page will load as expected.