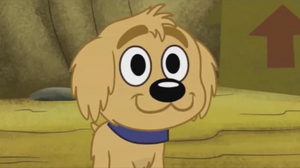 Shaggles was a puppy who appeared in "Lucky Gets Adopted." He was voiced by Grey DeLisle.
Profile
He came to Shelter 17 on Woof-Bark-Tooth Day. Being only three months old, he didn't know what the day was about, so he was told the story by Strudel. Afterwards, he was adopted by his perfect family, and seen off by Lucky.
Ad blocker interference detected!
Wikia is a free-to-use site that makes money from advertising. We have a modified experience for viewers using ad blockers

Wikia is not accessible if you've made further modifications. Remove the custom ad blocker rule(s) and the page will load as expected.