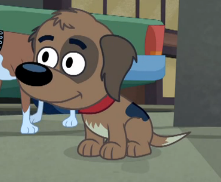 Pupster is a puppy who appeared in "Hot Dawg!." He was voiced by E.G. Daily.
Profile
Pupster was found with some other puppies in a box that had been left in the alley behind the shelter. His perfect human family lives in a gated community called the Spiky Walls Estates. Antonio was able to sweet-talk the community's two female guard dogs into letting Pupster get in, and to his human family.
Trivia
Sources
Ad blocker interference detected!
Wikia is a free-to-use site that makes money from advertising. We have a modified experience for viewers using ad blockers

Wikia is not accessible if you've made further modifications. Remove the custom ad blocker rule(s) and the page will load as expected.