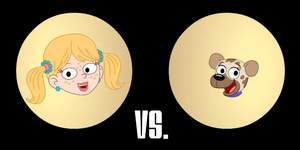 Pippy vs. Pooches  is a fictional family sitcom that only appears in the episode "I'm Ready for my Close Pup."
Original Plot
The plot of the show was about a young girl named Pippy who hated her new dog Pooches (Played by herself) and would try get her in trouble with her parents, only to have it backfire on her instead.
New Plot
After Amy admits that she loves Pooches, the chief executive decided to change the show from a girl hating her dog to a girl loving her dog.
Theme Song
Oh,Once, there was a Gal whose name was Daisy, Who had the cutest and spunky little pup. Pooches was her name, and she was crazy and she was always acting up.
Then Daisy saw this handsome-looking fellow, who had a little daughter of his own, who detested pooches from that very moment cause pooches ate her ice cream cone.
and now they're family,and now they're family, a highly dysfunctional family.
Trivia
The idea of one person hating the other is a basic sitcom routine.
The Parents in the sitcom resembled that of Carol and Mike Brady from the Brady Bunch.
Ad blocker interference detected!
Wikia is a free-to-use site that makes money from advertising. We have a modified experience for viewers using ad blockers

Wikia is not accessible if you've made further modifications. Remove the custom ad blocker rule(s) and the page will load as expected.