Molly is a girl scout who adopted Roxie in "The Accidental Pup Star." She was voiced by Kath Soucie.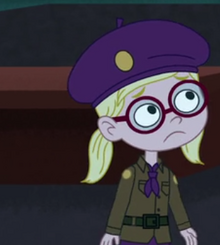 Profile
Molly recorded Rebound singing on her cell phone's camera, and her brother ended up posting the video on the Internet. The video quickly went viral. McLeish attempted to exploit Rebound for fame by making his own singing dog movie. The Pound Puppies then had to discredit the video so no one would find out that dogs can talk. By the end of the episode, the Pound Puppies succeeded in making the humans believe that the video was fake. Molly assumed that what she witnessed Rebound doing was a hoax, and she ended up adopting Roxie, a Dalmatian puppy.
Ad blocker interference detected!
Wikia is a free-to-use site that makes money from advertising. We have a modified experience for viewers using ad blockers

Wikia is not accessible if you've made further modifications. Remove the custom ad blocker rule(s) and the page will load as expected.