Miffy
and
Tiffy
are twin girls who appeared in "
Cuddle Up Buttercup
". Like many other kids, they saw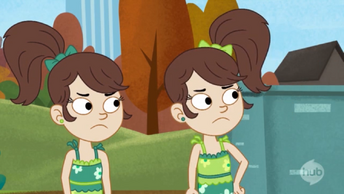 Buttercup
, thought she was the Cuddleup Buttercup toy come to life, and took off after her. They were both voiced by
Anndi McAfee
.
History
They were first seen running after Buttercup. When they caught her, they put her between them, joined hands and started skipping in circles around her, singing the song from the Cuddleup Buttercup toy commercial: "You can hug her, you can kiss her and squeeze her too, a cuddleup with Buttercup and she'll love you!" With help from Lucky and Cookie, Buttercup got away from them.
They later found Buttercup in the possession of a boy named Henry. They tried to convince him to let them have Buttercup, but he refused, and splashed them with mud. Their mother then called them for piano practice, adding that she hoped their dresses were clean, to the twins' chagrin. Miffy is on the left and Tiffy is on the right in the picture.
Ad blocker interference detected!
Wikia is a free-to-use site that makes money from advertising. We have a modified experience for viewers using ad blockers

Wikia is not accessible if you've made further modifications. Remove the custom ad blocker rule(s) and the page will load as expected.