Lucky & Cookie
Talk

3
363pages on
this wiki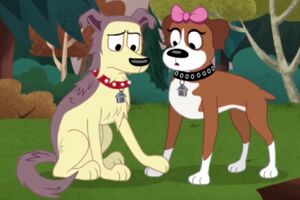 Lucky and Cookie are a romantic pairing in the show. They both work at Shelter 17 and help find homes for puppies.
Cookie's Hints
"The General" shows the first time that Cookie likes Lucky as more than a friend. In this episode, Cookie was getting fed up with the boy dogs because they treat her like "one of the guys". Later when Dolly (The General) arrived Cookie became more upset that all the boys were falling for her, but she got especially upset when Lucky started to fall for Dolly. Seeing that Cookie was upset, Dolly had a private talk with Cookie. During the talk Dolly then realized that Cookie wasn't upset about all the guys, but mostly about Lucky. Cookie then admitted to Dolly that she has a crush on him.
In "Lucky the Dunce", when Lucky is preparing the plan to get the six puppies adopted, Cookie says "I love the way he does that," Squirt replies (with a mirror in his mouth) "Yeah, its as if you can see the gears working in his head." Cookie replied (sort of sweating) "Yeah, that's what I meant."
In "Lucky Has to Move" Cookie shared a farewell nuzzle with Lucky, thinking he was leaving Shelter 17 forever. She later cried when she thought she was hearing his voice.
Lucky's Hints
In "The General", not much is shown that Lucky likes Cookie but at the end of the episode when Cookie gets her bow, Lucky looked happy and said to one of the dogs "That's Miss Cookie to you" then went back to admiring her new look.
Episodes focusing on Lucky & Cookie
Gallery