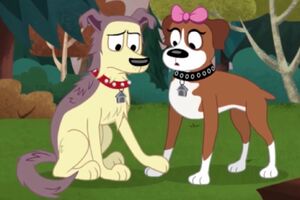 Lucky and Cookie are a romantic pairing in the show. They both work at Shelter 17 and help find homes for puppies. The ship is semi-official and somewhat recognized in the show, but saying it is fully official would be wishful thinking.
Cookie's Hints
Lucky's Hints
In "The General", not much is shown that Lucky likes Cookie but at the end of the episode when Cookie gets her bow, Lucky looked happy and said to one of the dogs "That's Miss Cookie to you" then went back to admiring her new look.
Episodes focusing on Lucky & Cookie
Gallery
Ad blocker interference detected!
Wikia is a free-to-use site that makes money from advertising. We have a modified experience for viewers using ad blockers

Wikia is not accessible if you've made further modifications. Remove the custom ad blocker rule(s) and the page will load as expected.