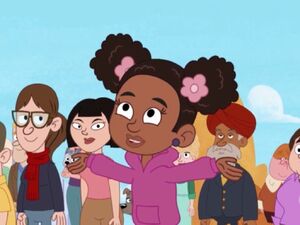 Katy Cooper is a little girl who adopted Humphrey in "Squawk." She was voiced by Grey DeLisle.
Profile
Katy and her mother went to Shelter 17 to adopt Humphrey (after being called by Strudel), but when they arrived, Humphrey could not be found. In addition, McLeish was confused as to what they were talking about, and drove them away. Later though, thanks to Niblet's plan, Humphrey was able to find Katy, and she adopted him.
Ad blocker interference detected!
Wikia is a free-to-use site that makes money from advertising. We have a modified experience for viewers using ad blockers

Wikia is not accessible if you've made further modifications. Remove the custom ad blocker rule(s) and the page will load as expected.