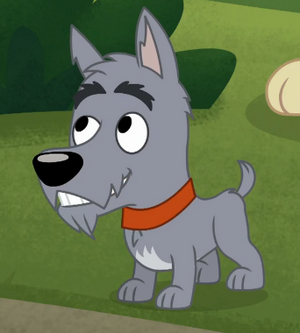 Jackpot is a Scottish Terrier puppy who appeared in "Back in Action." He was voiced by Lucas Grabeel.
Profile
When Jackpot arrived at Shelter 17, he was thrilled to meet Bert, who used to star as the title character on his favorite show, McBowser. However, Bert, who was now old and grumpy, was annoyed by Jackpot's attention, but soon Jackpot grew on him, and Bert even ended up saving both Jackpot and his new person Emily when her electric wheelchair malfunctioned. As it turns out, Emily was a fan of McBowser as well, and adopted Bert in addition to Jackpot.
Ad blocker interference detected!
Wikia is a free-to-use site that makes money from advertising. We have a modified experience for viewers using ad blockers

Wikia is not accessible if you've made further modifications. Remove the custom ad blocker rule(s) and the page will load as expected.