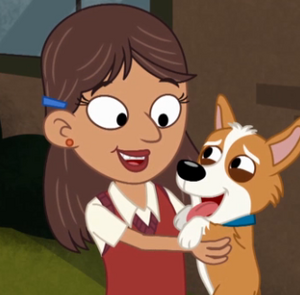 Eve Gardener is a little girl who adopted Chauncey in "Once a Ralph, Always a Ralph."
Eve was voiced by Tara Strong.
Profile
The Pound Puppies tried repeatedly to get Chauncey adopted by Eve, but Ralph kept messing up their plans due to his eccentric behavior. In addition, the Kennel Kittens tried to get Ralph to sabotage the adoption. Ultimately, due to Ralph's apathetic attitude, he did not go through with the Kennel Kittens' plans, and Eve was able to adopt Chauncey.
Ad blocker interference detected!
Wikia is a free-to-use site that makes money from advertising. We have a modified experience for viewers using ad blockers

Wikia is not accessible if you've made further modifications. Remove the custom ad blocker rule(s) and the page will load as expected.