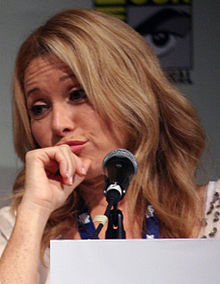 Elizabeth Ann Guttman (born September 11, 1961), better known by her stage names Elizabeth Daily or E.G. Daily, is an American voice actress, actress, singer-songwriter, and musician. She has provided the voices of characters such as Tommy Pickles on Rugrats and Buttercup on The Powerpuff Girls.[1] She regularly voices minor characters on the Hub's Pound Puppies, and provides the voice of recurring character Dolly.
References
↑ Elizabeth Daily on Wikipedia. Retrieved Jan 11 2013.
Ad blocker interference detected!
Wikia is a free-to-use site that makes money from advertising. We have a modified experience for viewers using ad blockers

Wikia is not accessible if you've made further modifications. Remove the custom ad blocker rule(s) and the page will load as expected.