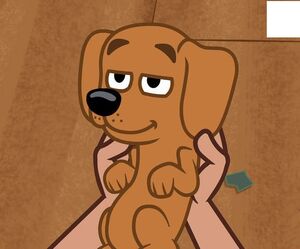 Cinnamon is a newborn Golden Retriever puppy who appeared in "Pound Preemies." One of Miss Petunia's litter, he was adopted by Sarah. Cinnamon's vocalizations were provided by Cree Summer
Cinnamon was also named by Sarah and was the first to open his eyes. It is very likely that Sarah is Cinnamon's real perfect person.
Trivia
In October 2012, U.S. viewers voted for his name by participating in the "Name a Puppy Poll" on Hubworld.com, and was heard in the U.S. broadcast of "Pound Preemies."[1]
In the Canadian broadcast of "Pound Preemies", his name was "Velvet Belly." In the credits, he is listed as "Runt".
References
↑ Name a Puppy Poll | Pound Puppies | Vote for Your Favorite Name | The Hub TV Network. Retrieved 23 July 2013.
Ad blocker interference detected!
Wikia is a free-to-use site that makes money from advertising. We have a modified experience for viewers using ad blockers

Wikia is not accessible if you've made further modifications. Remove the custom ad blocker rule(s) and the page will load as expected.