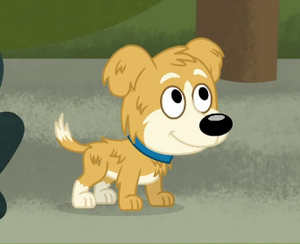 Chief is a puppy who appeared in "Hail to the Chief." He was voiced by Justin Shenkarow.
Profile
Chief is a very high energy, rough and tumble puppy. After he disrupted Strudel's "WOOF" award ceremony, Agent Ping tasked Strudel with finding his perfect person, who turned out to be two girls, the President's daughters, Trudy and Isabelle. Chief got adopted, and the episode ends with Chief peeing on a rug and the President going to clean it.
Ad blocker interference detected!
Wikia is a free-to-use site that makes money from advertising. We have a modified experience for viewers using ad blockers

Wikia is not accessible if you've made further modifications. Remove the custom ad blocker rule(s) and the page will load as expected.