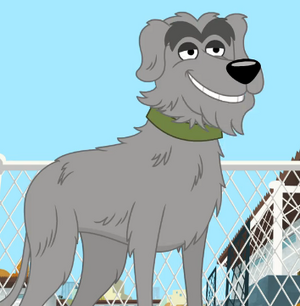 Bony Doggins is a dog who appeared in "The Road to Empawerment." He was voiced by Jess Harnell.
Profile
Bony is a motivational speaker who visited Shelter 17. He inspired Niblet to become "empawered", causing Niblet to take three misfit puppies- Axel, Stuffy and Schleppy -on a quest to find the legendary Doggy Lama.
However, unbeknownst to Niblet, Bony hasn't actually met the Doggy Lama and is hypocritical in his beliefs about "empawerment".
Trivia
Bony Doggins' name is a reference to real-life motivational speaker Tony Robbins.
Ad blocker interference detected!
Wikia is a free-to-use site that makes money from advertising. We have a modified experience for viewers using ad blockers

Wikia is not accessible if you've made further modifications. Remove the custom ad blocker rule(s) and the page will load as expected.