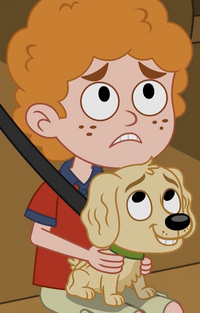 Billy is a boy who appeared in "No Dogs Allowed." He was voiced by Cree Summer.
Profile
Because of his apartment building's new ban on dogs, he had to take his puppy Vanilli to Shelter 17. By the end of the episode though, his apartment's landlord Mr. Grubo lifted the dog ban, and Billy got to keep Vanilli.
See also
Ad blocker interference detected!
Wikia is a free-to-use site that makes money from advertising. We have a modified experience for viewers using ad blockers

Wikia is not accessible if you've made further modifications. Remove the custom ad blocker rule(s) and the page will load as expected.