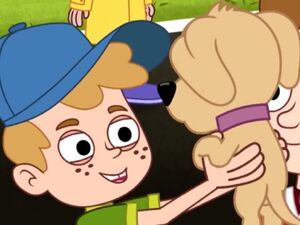 Benji Cedars is a 12 year old boy who adopted Poopsie in "There's Something About Camelia." His little sister Kaylee adopted Camelia. Benji was voiced by Pamela Adlon.
Profile
The FKD chose Benji as Poopsie's perfect person because they are both frisky, active, into sports, and are lasagna fanatics.
Ad blocker interference detected!
Wikia is a free-to-use site that makes money from advertising. We have a modified experience for viewers using ad blockers

Wikia is not accessible if you've made further modifications. Remove the custom ad blocker rule(s) and the page will load as expected.