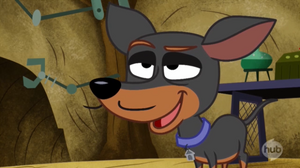 Antonio is a Venezuelan Chihuahua who appeared in "Hot Dawg!." He was voiced by Carlos Alazraqui.
Profile
Antonio was formally an agent at Shelters 34, 46, 3, 54 and 55 before being transferred to Shelter 17 by Dolly. He has a reputation of getting romantically involved with all of the female Pound Puppy agents that he works with. While working at Shelter 17, he sweet-talked both Cookie and Strudel, causing them to fight with each other. Fortunately, Antonio was able to get them to be friends again, and ended up sweet-talking two female guard dogs, allowing Pupster to get inside a gated community and to his human family.
Antonio is currently residing in Caracas, Venezuela, where he is using his sweet-talking charms for good.
Ad blocker interference detected!
Wikia is a free-to-use site that makes money from advertising. We have a modified experience for viewers using ad blockers

Wikia is not accessible if you've made further modifications. Remove the custom ad blocker rule(s) and the page will load as expected.