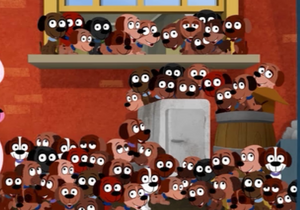 67 puppies appeared in "The General." They were brought to Shelter 17 by Dolly so they could all find homes. Strudel's machine turns them all brown and at first they success with Olaf unsure where they're all coming from. When they start to have trouble, Dolly tries to convince Cookie to change into her old self, which she does and Dolly gives her a pink bow which she wears from then on.
See also
Ad blocker interference detected!
Wikia is a free-to-use site that makes money from advertising. We have a modified experience for viewers using ad blockers

Wikia is not accessible if you've made further modifications. Remove the custom ad blocker rule(s) and the page will load as expected.